Defunkt Magazine
There are presently no open calls for submissions.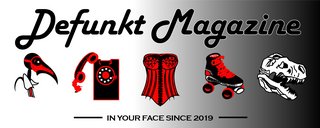 We are a magazine that showcases compelling, accessible, and culturally relevant work--anything the mainstream is ignoring we are likely into. We seek to offer an authentic reflection of the contemporary, and most importantly, to uplift marginalized peoples in a fascinating and brutally honest way. Bring us your pain, your strength, your passion.
MEDIUMS WE ARE LOOKING TO PUBLISH & PROMOTE:
Poetry & Prose, Short Film, Music, Visual & Performance Art
We are currently accepting submissions for all sections of the magazine.
SIMULTANEOUS SUBMISSION IS ACCEPTABLE WE ONLY ASK THAT YOU NOTIFY US AS SOON AS YOU ARE MADE AWARE OF THE ACCEPTANCE ELSEWHERE.
ALL VIDEO FILE SUBMISSIONS MUST BE VIA YOUTUBE LINK
​Please note that Defunkt Magazine requires First Serial Rights on all submissions /all mediums. All published works may be considered for our annually printed anthology. ​
​FAILURE TO FOLLOW THE GUIDELINES WILL RESULT IN IMMEDIATE REJECTION​. ROLLING SUBMISSION / QUARTERLY ONLINE PUBLICATION / ANNUAL PRINT.